Fine Light Mask Articles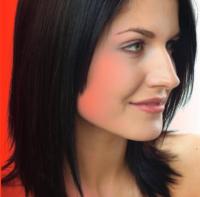 Daily Mail Article Dated: April 26,2010
Miracle mask: Can anything banish lines, clear spots and repair sun damage? The LED mask claims it can!
By Alice Hart-Davis
How would you feel if I told you I'd found a treatment which lessens the appearance of fine lines and wrinkles, clears blemishes and minimizes pores and improves skin tone and texture.
What if I said it also restores the skin's natural ability to produce supportive collagen, reduces brown spots, redness, dry patches and sun damage and increased the blood circulation and moisture retention within the skin, all in one go?
What would you say if I went on to claim that this treatment doesn't just tackle problem areas on your face, but that it's also good for your body, since it helps to generate vitamin D, and your mind, too, because it stimulates the production of serotonin in the brain which makes you feel happy and energised?
'It is a non-invasive procedure that delivers multiple doses of red and near-infrared light to your face'
I'd be pretty dubious about this preposterous list of claims, too, except for the fact that the treatment is being offered by John Tsagaris, one of London's most intriguing independent health-and-beauty practitioners.
He's a doctor of Chinese medicine (he has a degree in traditional chinese medicine combined with human bioscience and also holds a postgraduate diploma in skin disorders and beauty care).
His work has included placements in hospitals in Beijing, where he specialised in dermatology, gynaecology, cardiology and geriatrics, and he now has a clinic just off Harley Street and does the odd day at Harrods' new MediSpa. But why a light-emitting helmet?
'This is something for the 21st century,' says John, 'using the latest NASA technology.
'NASA has been researching the potential of LED [light-emitting diode] light and has adapted it to use on astronauts and for the U.S. Navy. It also lifts energy levels, making patients feel full of life.'
Treatment: The Light Masque claims to restore the skin's natural ability to reduce sun damage. It is a non-invasive procedure, he explains, that delivers low-level pulses of light up to three times brighter than the sun.
'This light is accelerating the energy potential of skin cells, working particularly on the mitochondria, the energy factory that is inside each cell. 'My skin looked brighter and much more even in tone'
'The light works like photosynthesis for the skin by converting light energy to promote healing and anti-ageing effects at a deep level. It also works on preventing bacteria in the skin.'
How can light do this? Well, there is a lot of research into LED light treatments and what they can do for the skin. Unlike laser light (it's a different wavelength), LED is gentle on the skin. Blue LED light is good for treating acne and rosacea, as it affects the 'superficial' levels of the skin to tackle bacteria and inflammatory conditions. Red light goes deeper, to affect the collagen production in the skin, supercharging the cells.
One U.S. study reported a 'statistically significant improvement in wrinkles', while another showed 'a reduction in the signs of photoaging in 90 per cent of subjects, with smoother texture, reduction in peri-orbital rhytids [that's crow's feet] and reduction in erythema [redness] and pigmentation'.
I had to try the Light Masque, of course, and can report that it's a treat. You lie down, strap on a pair of goggles and relax for 25 minutes. That's all. I nearly dropped off to sleep. At the end of the treatment, my skin looked brighter and much more even in tone - the result, I was told, of the boost in circulation that the light gives. For best results, I would need a treatment three times a week for two weeks. You know what? I might just do that.
CLICK FOR ARTICLE
New York Times Article Dated: August 21, 2013
Like Face-Lifts, Facials to Turn Back the Clock
By Alix Strauss
The last time Lisa Marcus was at the Fifth Avenue office of her dermatologist, Dr. Debra Jaliman, she ran into someone she went to high school with.
"She asked if I'd had a face-lift," said Ms. Marcus, 55, a recent retiree who had instead opted for a nonsurgical office procedure that some are calling a "facial face-lift": a package of treatments that may include not just extractions but injections of neurotoxins like botox and hyaluronic acid filler, as well as red light therapy.
The field has suffered in recent years. According to the American Society for Aesthetic Plastic Surgery, cosmetic minimally invasive procedures increased more than 10 percent in 2012 from 2011, compared with 3 percent for cosmetic surgical procedures. "In the depths of the recession people were putting off plastic surgery, which aside from technology advancements is probably why these facials have become popular," said Dr. Edwin F. Williams, the medical director and founder of the Williams Center for Plastic Surgery in Albany, with an office in Manhattan.
Technological advancements have also enabled amped-up facials in nonmedical settings like Dangene's Institute of Skinovation, in the Core Club on East 55th Street, which offers a "skin rejuvenation treatment" involving 90 minutes of wet and dry microdermabrasion, ultrasound with serum, oxygen and (it does not include injections, though the spa also offers them). The price: LED LIGHT $2,500
"I don't have to spend $30,000 or go into hiding for weeks," said Ms. Marcus, the patient who was pleased with her facial face-lift. "You can have the work done in the office, go home, look better and your husband or boyfriend will never know you've done anything."
CLICK FOR ARTICLE